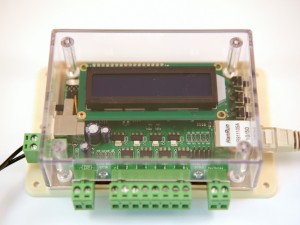 OpenSprinkler Firmware Update
---
The OpenSprinkler firmware is regularly updated to include new features and functionality. You can update the firmware at any time by reflashing the microcontroller (MCU). The source code is completely open and free. You are welcome to modify it and share your contributions through GitHub.
Preparation:
You need a regular size Male A to Male B USB cable (most printers use this type of cable).
If you own OpenSprinkler v1.0 or 1.1: you need an external ISP programmer (FTDI cable no longer works due to the size of the new firmware). In addition, you need to run the following command to re-program the fuse bits:
avrdude -c usbtiny -p m328p -B 250 -F -U lfuse:w:0xff:m -U hfuse:w:0xd1:m -U efuse:w:0x06:m
Only do this if you own v1.0 or v1.1. Do not re-program the fuse bits on OpenSprinkler v1.2 and above, as they have built-in USB programmer and are already programmed with the correct fuse bits.
---
Upload a Precompiled Firmware
Warning: Uploading a new firmware will erase your program settings and restore options to default values.
New: Firmware Updater 2.0 is now released. This version adds support for auto-detection of OpenSprinkler device and auto-downloading of the latest firmware. It only supports OpenSprinkler Hardware 2.0 or above.
Please run the 'osFirmwareUpdater' program in the folder that corresponds to your operating system.
For Windows
: if it reports 'javaw.exe' not found, please go to
http://www.java.com
to download and install Java.
For Mac: if it reports Application is damaged and can't be opened, you need to temporarily change a Security and Privacy setting in System Preferences to allow applications downloaded from anywhere. See the details in this work-around.
For Linux: run the program in 'sudo', unless if you added the device VID/PID in /etc/udev/rules.d/.
Driver Installation
:
Linux and Mac users do not need to install any driver.
For Windows: please install driver:
In general, you do not need to run any executable file from the driver installation folder. Instead, plug in a USB cable to OpenSprinkler (for OpenSprinkler 2.1 and above, press and hold pushbutton B2 while plugging in a USB cable, then release B2 within 2 seconds), and let Windows detect the device. It will report that driver is not found. Next, go to Device Manager, identify the USB device (USBtiny or USBasp), right click the on the device and select Update Driver; then select Browser My Computer for Driver Software, and provide the path to the driver files. This should allow you to install the driver.
Windows 8 and 8.1 can be very tricky to work with, due to the driver signature enforcement. The general approach is to disable driver signature enforcement first, and then follow the same procedure above to install driver. If you are lost, Google 'Windows 8 USBtinyISP' or 'Windows 8 USBasp' and you should find some solutions online.
Instructions
:
Plug in USB cable.
For OpenSprinkler 2.1, please first enter bootloading mode: turn off controller, press and hold button B2 while plugging in USB cable, then release the button within 1-2 seconds).
Click on 'Update and Detect'. The software will automatically detect the OpenSprinkler version you have, and download the latest firmware for your device.
Click on the 'Upload' button.

You can also manually select a device and firmware version to upload.
---
Compile and Modify the Source Code
If you wish to modify the OpenSprinkler source code and customize the software, please follow the instructions below. The F.A.Q. page contains some basic information to get you started. The source code has been documented with comments. It is your responsibility to understand the code if you wish to make changes. We will try our best to answer your questions but cannot respond to all requests.
Update
: the recommended method for compiling the current firmware is now through a virtual Linux OS. The virtual Linux has all the necessary software and settings pre-installed. All you need to do is to download the free VirtualBox software and use the virtual Linux image file by following the
instructions here
.
The default sudo user of the virtual Linux is opensprinkler and the password is the same as the user name.
If you wish to install everything from scratch:
---